Sweet Land, the musical
Buy tickets online!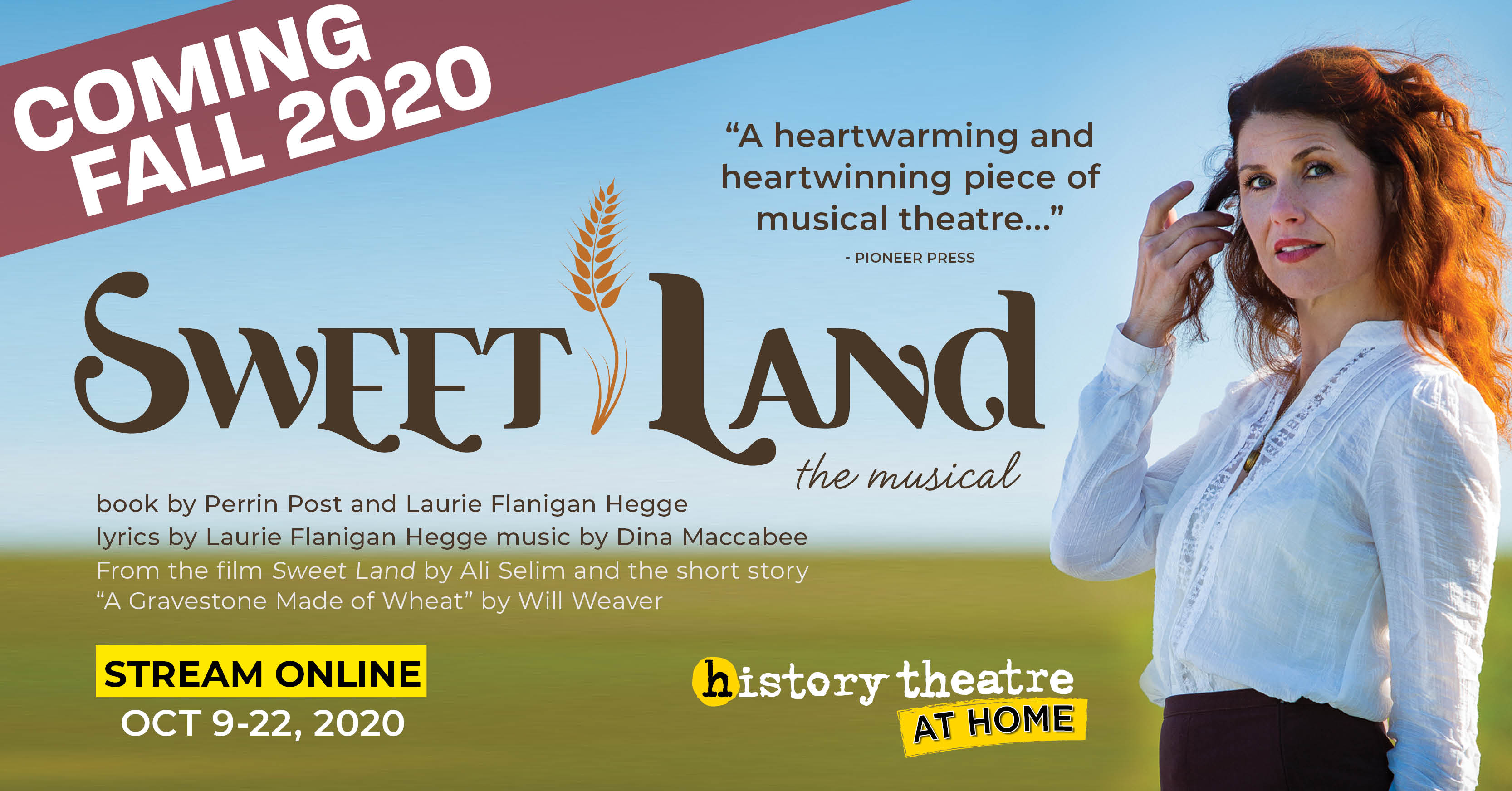 Sweet Land, the musical
Streaming October 9-22, 2020

Click here to stream
Book by Perrin Post and Laurie Flanigan Hegge
Lyrics by Laurie Flanigan Hegge | Music by Dina Maccabee
From the film Sweet Land by Ali Selim and the short story "A Gravestone Made of Wheat" by Will Weaver
Directed by Perrin Post | Choreography by Joe Chvala | Musical Arrangements by Robert Elhai
History Theatre premiere April 29-May 28, 2017
Running time: Act 1: 71 minutes Act 2: 50 minutes
In this "beautiful story of love, community, and connection to the land" (Cherry and Spoon), Inge Altenberg journeys to America to marry a bachelor farmer, sight unseen. But in the wake of WWI, Inge's German heritage turns her neighbors against the match. Don't miss what Talkin' Broadway called "a thoroughly human story of enduring love…one of the finest original works to appear on any Twin Cities stage over the past several seasons."
From the Artistic Director
My Italian-born grandmother came to this country in 1902 at the age of four. She came with her mother, who had no family or husband at her side. They spoke no English when they landed, but somehow they found their way from Ellis Island to New Castle, PA, where they would rent a small room in a boarding house run by another Italian immigrant.
Lady Liberty took them in with open arms and as a result, I got to grow up in this great land, play little league baseball, get a college education and "Lo and Behold" – I ended up in beautiful Minnesota, directing and commissioning plays about our American experience.
Funny how things work out. Enjoy our musical adaptation of the film "Sweet Land" and remember your family history.
From the creators of Sweet Land, the musical
The story of Sweet Land belongs to all of us. Our ancestries may be different, but each of us has a story to tell about where, and how, and why our families came to be. Where there is no connection to our roots, we long to find one. In our longing for love and acceptance, we strive to be loving and accepting in turn. We know that sometimes we fall short.
To notice an outsider is to remember that at one time or another, we have all been outsiders. In 1917, Germans represented the single largest ethnic group in Minnesota. With the outbreak of World War I, the environment towards German Americans turned deeply hostile. Suddenly, loyalties were questioned, civil liberties suspended. A network of spies informed the newly-formed Minnesota Commission of Public Safety on the "patriotic attitudes" of recent immigrants. Fear was institutionalized. This is the world that Inge Altenberg stepped into when she arrived at Olaf Torvik's farm. We hope our version of this story, adapted from Ali Selim's gorgeous film Sweet Land, which was inspired by Will Weaver's beautiful short story A Gravestone Made of Wheat, invites you to consider attitudes toward all kinds of outsiders in the context of our own perilous time.
On a personal note: during the creation of this show, as we immersed ourselves in themes of family, place, memory and loss, several members of the Sweet Land family lost a mother or a father. We dedicate this production loving memory to all those who came before. We especially remember Joe Chvala's mother Mary Ann Chvala, nee Severt (1927-2015) of Madison, Wisconsin, a second generation German-American, also of Norwegian and Italian descent; Robert Elhai's mother Corinne Elhai, nee Ghitterman (1930-2016) of Claremont, California, whose parents immigrated from Romania to Canada, and from Canada to the United States; Dina Maccabee's father Howard Maccabee (1940-2015) of Alamo, California, whose predecessors immigrated from Eastern Europe, Tinia Moulder's father Walter Moulder (1924-2016) of Wilmington, Delaware, of Welsh, English, and German descent; Perrin and Paula Post's father Robert Harold Post (1930-2016) of Buffalo, Minnestota, of German and English descent; and Jim Ramlet's mother Shirley Anna Ramlet, nee Hawkinson (1923-2016), of Richfield, Minnesota, whose grandfather came from Germany in the 1880s.
Ali, Will — our hearts are full of gratitude. Thank you for letting us live in your house, and for the opportunity to tell the story of Olaf and Inge Torvik once again, in our way.
Perrin Post, Laurie Flanigan Hegge, and Dina Maccabee
Critical praise for "Sweet Land, the musical"
New musical "Sweet Land" has a handmade quality
by Dominic Papatola (Pioneer Press, 4/3/2017)

..the folk-infused tunes do what songs in musical theater are supposed to do: They give us insights into character's minds (especially useful since Inge doesn't speak English at the beginning of the play). They advance plot points. …but so is the core of "Sweet Land;" a heart-warming and heartwinning piece of musical theater.
Minnesota musical "Sweet Land" offers plenty of charm
by Rohan Preston (Star Tribune, 5/2/2017)

New musical at History Theatre tells a Minnesota immigrant's tale with poignant tunes and a start turn by Ann Michels. Upper Midwest Scandinavians are supposed to be stoic and phlegmatic. And those depicted in "Sweet Land, the musical" are, to a degree. Still, they pour out their hearts and inner lives in song in an understated love story that evinces some of the hard prejudice in Minnesota farm country.
Sweet Land, the musical is an occasion for cheers
by Arty Dorman (Talkin' Broadway.com, 5/5/2017)

The result is a beautiful work of musical theater. The book is literate, rich in warmth and humor, and creates fully formed characters who speak in the voice of their place and time. Maccabbee's lovely folk-flavored music captures the essence of rural life in 1920 Minnesota, with rising swells that convey the deep emotions at the heart of the story. The current world premiere production mounted by History Theatre could hardly be improved upon.